The following is amateur reloading data and should not be repeated. I do not have a way of measuring pressures. Your results will be different then mine. Always follow published data. This data is published for information only. I will not be held responsible for any use of this data.
CFE Pistol in 9x18mm Makarov
One of my favorite calibers to shoot is the 9x18mm Makarov. I own a CZ82 and a P83 in this caliber. I recently stumbled across some Hodgdon CFE Pistol and was curious if it might make a good powder for reloading the Makarov cartridge. CFE Pistol is a medium burn rate powder listed as number 44 on the Hodgdon burn rate chart. The places it right after Hodgdon HS-6 (#42) and Win AutoComp (#43). Hodgdon doesn't offer data for this powder in 9x18 but they do have .380 data. Hodgdon shows a max load of 4.2gr CFE Pistol under a 95gr FMJ at 0.970. The old rule for loading 9x18mm has been .380 + 10% = a Max load of 4.6gr. I started loading and here is what happened. My first load session was a 95gr berry's plated 0.363 bullet over 3.8, 4.0 and 4.2gr CFE Pistol. I shot these with no issues and decided on a second series using 4.3, 4.4 and 4.5gr CFE Pistol. Below is the data I collected.
95gr Berry's plated 0.363 @ 0.980
Trimmed 9x19mm cases
Win SP primers
Tested in CZ-82
Barrel length: 97 mm (3.8 in)
Shooting Chrony F-1 at 10ft from muzzle.
Temp ~70F
Graph: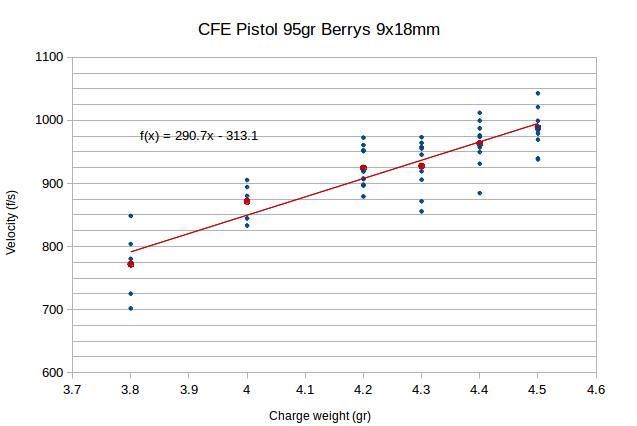 Red dot represent average velocity at each load level.
Data:
gr # Ave SD
3.8 5 771.9 59.3
4.0 5 871.5 31.4
4.2 10 924.5 32.1
4.3 9 927.7 42.3
4.4 10 963.1 36.5
4.5 10 988.4 34.3
Conclusion:
The lighter charges of 3.8 and 4.0gr left unburnt powder in the action. Charges of 4.2 and 4.3 seems to work well and give reasonable velocities and performance. When I stepped up to 4.4 and 4.5 gr, I noticed much more recoil. It wasn't the snappiness that 9x18 is know for either. This recoil was kinda a heavy push. The slide was recoiling hard and tossing cases FAR. I think that continued shooting at this load level would be rough on the gun. Even with the harsh recoil, velocities where not impressive. I decided that 4.5gr was far enough. Despite large spreads in velocity and unburnt powder, all loads seems to shoot accurately.
My opinion of CFE Pistol is it is not a very appropriate powder for use in 9x18mm. Its burn rate is too slow and doesn't produce the velocities that a faster powder can. I would put the max load at 4.3 gr with my suggested load of 4.2gr but I would look for a faster powder before I resorted to CFE Pistol in this application.
Improvement:
I would like to do my next work ups in one shooting session to reduce the chance of temperature changes influencing my results. I have since started to record actual temperatures each time I use the chrono.
My charges are accurate to +/- 0.05gr at best. My 4.2gr charge was running on the heavy side when I was loading, the increased velocity can be seen in the graph. I have been using a cheap digital scale to set my Hornady powder measure with pistol drum. I believe my digital scale is introducing some error.
Red Dot in 9x18mm.
Red Dot is a classic shotgun powder that everyone seems to have a bit off. It is also a very suitable powder for many pistol applications. I wanted to see how it worked in 9x18 Makarov. Alliant no longer publishes data for its use in 9x18. If we look back to the Alliant Powder Reloader's Guide from 2003, there is Red Dot data for 9x18. In this guide is listed a max of 2.7gr under a 100gr LRN @ 0.965 and 3.1gr under a 100gr FPJ @ 0.965. In my case, I am loading a 93gr LRN 0.365 from King Shooter Supply. These can be found at
http://www.betterbullets.com
.
93gr LRN 0.365 @ 0.980
Red Dot 2.5gr, 2.7gr, 2.9gr
Trimmed 9x19mm cases
Win SP primers
Tested in CZ-82
Barrel length: 97 mm (3.8 in)
Shooting Chrony F-1 at 10ft from muzzle.
Temp ~70F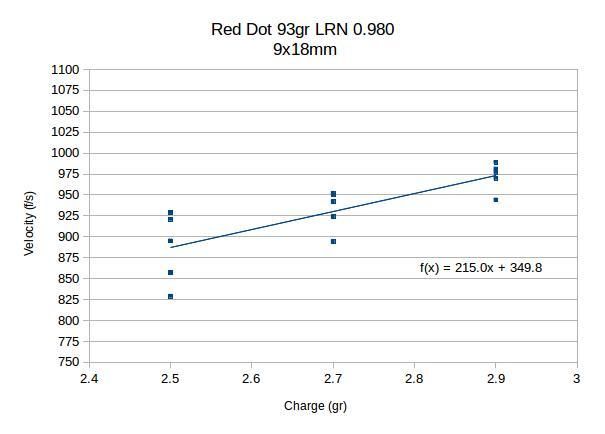 Conclusion:
I am very satisfied with the performance of Red Dot in 9x18mm. The higher charges produced the most consistent (smallest Standard Deviation) loads. 2.9gr of Red dot gave a five shot average of 972fps. This is ~50fps less that the typical mil spec loads at 1025fps. This load is a good target load with mild recoil compared to the snappy full power imported russian loads. All loads cycled the gun with no issues. I also experienced zero lead fouling using hard cast lead bullets in my polygonal rifled CZ-82. 2.9gr Red Dot under a 93gr LRN@0.980 is one of my pet loads.
One issue with using small charges of Red Dot is that large flakes do not meter well in some measures. I am using the Hornady Powder measures with small Pistol drum and my throws are +/-0.1gr. Other measures can be off by more. I would not recommend max charges if your powder meter can't throw accurate charges. There are other powders available that meter better and would be more suitable for max loads.
Going from here:
What can I do to improve these write ups? I am working on improving my reloading and testing procedures. I think next I want to work with Titegroup and 93gr Cast bullets. I have a CZ-82, P-83, and I am getting a Bulgarian Mak.
I am willing to do write ups using 9x18mm, 45ACP, and maybe even 7.62x38mm Nagant. I have Red Dot, Unique, Power Pistol, Titegroup, W230, Universal, and CFE Pistol.