First off, some folks ask it, "Why would you refinish an old gun and ruin the collectible value of it?"
My answer, it was my grandpa's revolver and it was given to me by my mother. It will remain in my family and I want it to look how I want it to look. Plus, the old gloss blue finish was rapidly deteriorating and any bit of moisture would cause it to break out like a boy hitting puberty. It would develop these areas of surface rust that bothered me.
So, I was thinking about bluing it myself with a rust blue. I posted on a Facebook group and one feller asked if I had considered getting it parkerized. I had not, but I like the way a parkerized gun looks, especially a military-type firearm. I pondered it over and asked him what he'd charge me. He replied back with a price that was too hard to pass up. It would cost more in materials and time for me to rust blue it myself.
I gave him the revolver last night at 8pm and I got it back tonight at 7:20pm and it is beautiful. 1 day turn-around is good with me. I had torn it all apart and gave him the pieces that needed to be done. As soon as I got home and took it out of the Zip-Loc bags, I began putting it back together. The part that I thought I'd hate the most wasn't that bad. It's the rebound slide, my is that part tough to put back in. However, I got it in as well as the trigger and realized there was some grittiness to all of it, so I had to take it back apart and blow it all out with my air compressor. Must have been some fine pieces of sand from when it was sandblasted. Anyway, after all that, I got it back together and admired how it looks. It turned out a dark gunmetal gray color.
Without further delay, here are pictures. Any spots that look like blemishes in the new pictures are just where I have put a thin coat of oil on the steel.
Old pictures, Left and Right sides of frame.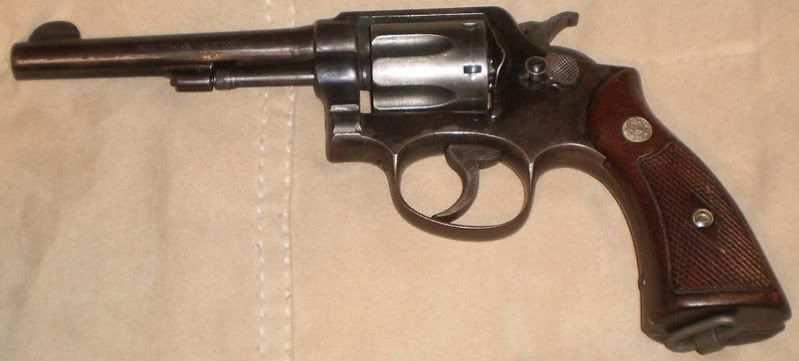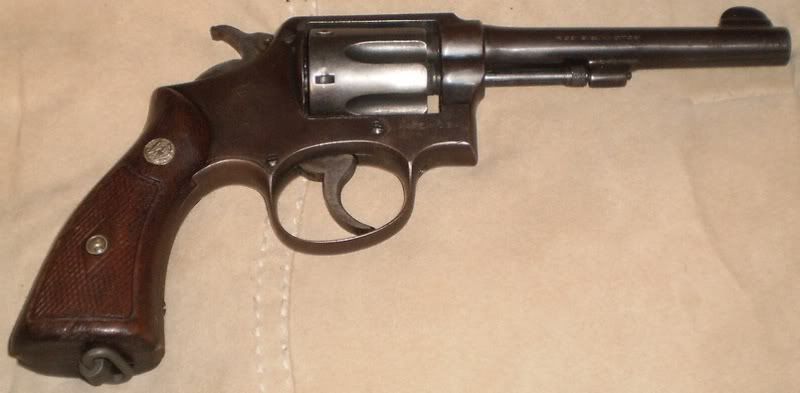 New pictures, Left and Right sides of frame, along with the caliber marking on barrel.