Didn't really need it, but 250.00 out the door (including tax & TBI fee) seem OK.
]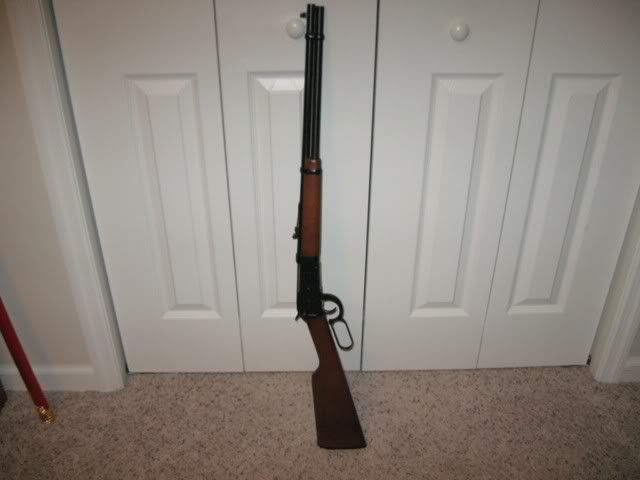 ---
Nice looking rifle! Is it .30-.30? I love my 1952 Model 94. I posted here recently about using it on a 1,000-yard shoot. Those more recent ones are incredibly cheap aren't they? How can you resist $250?
---
greyfox,

That is a nice looking rifle and the price makes it great. You made a good buy on this one!
---
Global moderator

Posts: 2080
Joined: January 22nd, 2006, 1:16 am
Location: Madisonville, Kentucky
grayfox,

Excellent deal on that Winchester Ranger, great looking rifle.

papabear
POINT SHOOTER
---
Thanks to all. The going price in the sevier/knoxville area is 389.00 And as they are not being made anymore I thought I'd grab it.

nbender,
Its a 30-30.
Last edited by
grayfox
on October 16th, 2007, 9:21 pm, edited 1 time in total.
---
GrayFox~ That is a Sweet looking Levergun!!! I have a Win 94 30-30 . Is that the same as? If not, then what are the noticeable differences? I have the Winchester History book that covers 1866-1980, but, the only "Ranger" i see is the Texas Ranger Commemerative model. it has the curved buttstock and a medallion in the stock of a ranger badge (star)Is that what you have? . There are only 5,000 of this model (including 150 "special" guns). The 150 "Special-Edition models Have hand checkered,full fancy Walnut stocks. These guns were enclosed in a special presentation case and the Texas Ranger Commemerative Star was mounted inside the presentation case instead of on the gun stock. The 150 special-edition Winchester Texas Ranger Commemerative model 94 rifles were available through the Texas Ranger Association at a cost of $1,000 per firearm. Just wondering, Thanks ,
G
Last edited by
garry
on October 17th, 2007, 9:36 am, edited 1 time in total.
---
Garry, the Ranger was Winchester's "value" production during the latter years. It has a generic wood stock instead of the high dollar walnut. As far as I know, the action is still the same as the regular '94. I bought one almost 2 years ago at Walmart. It was on clearance for $175. I couldn't just leave it there - it would have been unamerican of me. Since Winchester closed up shop, the prices have gone nuts.

I shoot the 160 grn Hornady LeverEvolution ammo out of it with great results. Took two hogs last year - one dropped in her tracks and the other ran less than 30 yds.
---
Thanks Doyle ! I love winchester stuff and i reload 30-30 for my mdl.94 . $175 ~~~WOW !!!
what a steal Man !
there is a RECALL on some of the Leverevolution Ammo btw... you can see the info at hornady.com in the recall section.
I am currently searching for a place to hunt hogs in MO. if i can find some landowners that want them gone. around here , most people think they are cute and don't want them hunted lol. Me? I want to eat'em up ! I hope my cousin in SWMO calls back with a place near him. Anyways ... Thanks for that info ! G
---
The Hornady recall was for a specific lot number that had a couple of reports of squib loads. All the current stock is well past that. I don't see how anybody could think hogs are cute. They certainly aren't loved here. A family of hogs will tear up a golf course or newly planted lawn in one night. Unfortunately, even though landowners hate them, hardly any will let you come and hunt them.

Good luck getting one.
---